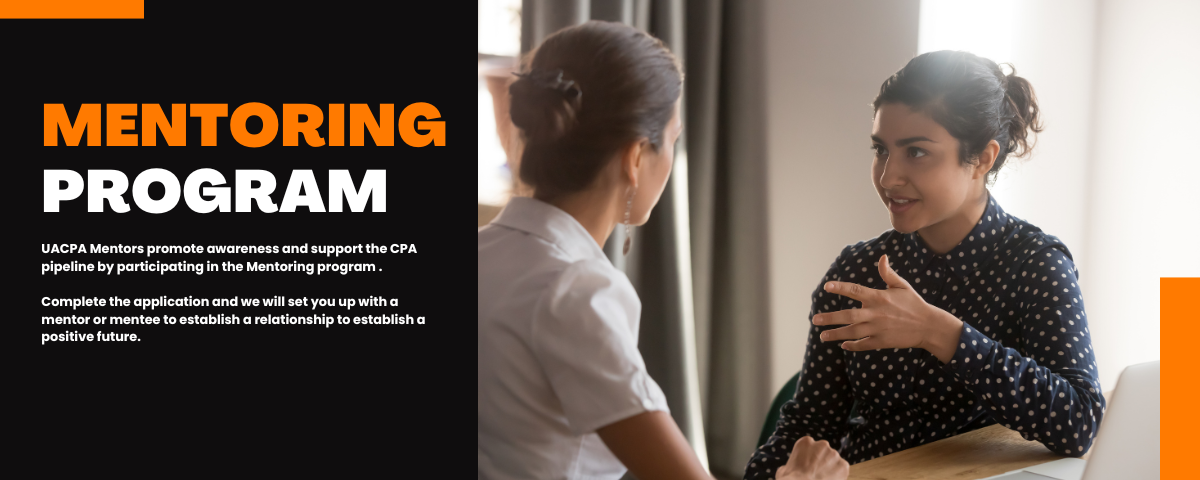 The UACPA Mentoring Program provides an opportunity for experienced professionals to help students and new professionals hone in on their goals and skills. By participating in the program and providing guidance, mentors support and foster the CPA pipeline, ensuring an exciting future for the profession.

Please fill out the application to be matched with a student, new CPA or professional.

Do you want to find a mentor or provide mentorship? Apply here.

Learn more about the UACPA's Mentoring Program
mentoring faqs
Why Should I Mentor or be Mentored?
The goal is to support the future of the CPA profession. As students seek support for becoming a CPA and those new to the profession want a deeper connection to grow their future, it's invaluable to have a professional connection.
Our program requires mentors be a UACPA members who are eager to provide guidance to new professionals and students.
What Does the Program Look Like?
The formality and structure of meetings should be determined based on the participants' preferences, but for the initial meeting we suggest beginning with the following:
Both parties share their backgrounds and what they hope to gain from the relationship.
Mentee shares 2-3 goals/objectives that will guide discussion topics for future meetings (mentee should contemplate and identify these before the meeting begins).
Use remainder of time to get acquainted with one another, focusing on establishing trust.
End the meeting by recapping key discussion points - Solidify 2-3 goals/objectives that will becoming the backbone of future meetings.
Agree on planning for future discussions (acceptable forms of communication, whether contact between meeting is acceptable or not, date and time of next meeting… etc.).
Where and How Often Should I Meet With My Mentor/Mentee?
After evaluating availability and schedules, please ensure that you meet at least once per quarter, for at least one hour per meeting. Face-to-face or video-chat meetings are encouraged where possible, however, we do understand that coordination may require some meetings to occur over the phone.
In-person meetings should take place in a professional, public setting or virtual exchange – not, for example, in the home of a mentor or mentee.
Each pair should discuss and agree upon the amount of communication that will occur between formal meetings ("call me anytime" vs "let's discuss things only during our scheduled meetings").
Meetings should occur only during the specified period beginning in September and concluding in May of the following year.